Wisconsin Spring Turkey Application
Wisconsin offers tremendous turkey hunting opportunities to sportsmen, both in quality and quantity. Both spring and fall hunting seasons are available, with the spring being the most sought after. Residents and nonresidents acquire tags in the same method, which is through the Wisconsin Spring Turkey Application. Below we'll cover how the application works, including the Wisconsin turkey zones, available seasons, and other important information.
When is the Wisconsin Spring Turkey Application?
The Wisconsin Spring Turkey Application deadline is the same each year, with applications due no later than December 10th. To receive reminders for this application or others, add it to your OnPoint Account via the web, Apple, or Android app. If you miss the spring turkey deadline, you can still get a tag when leftover tags go for sale, detailed below.
December 10th, 11:59PM CT
Wisconsin Spring Turkey Draw Deadline
Wisconsin Turkey Zones
Wisconsin is divided into seven turkey hunting zones. Tags are specific to an individual hunting zone. Below is the Wisconsin turkey hunting zone map.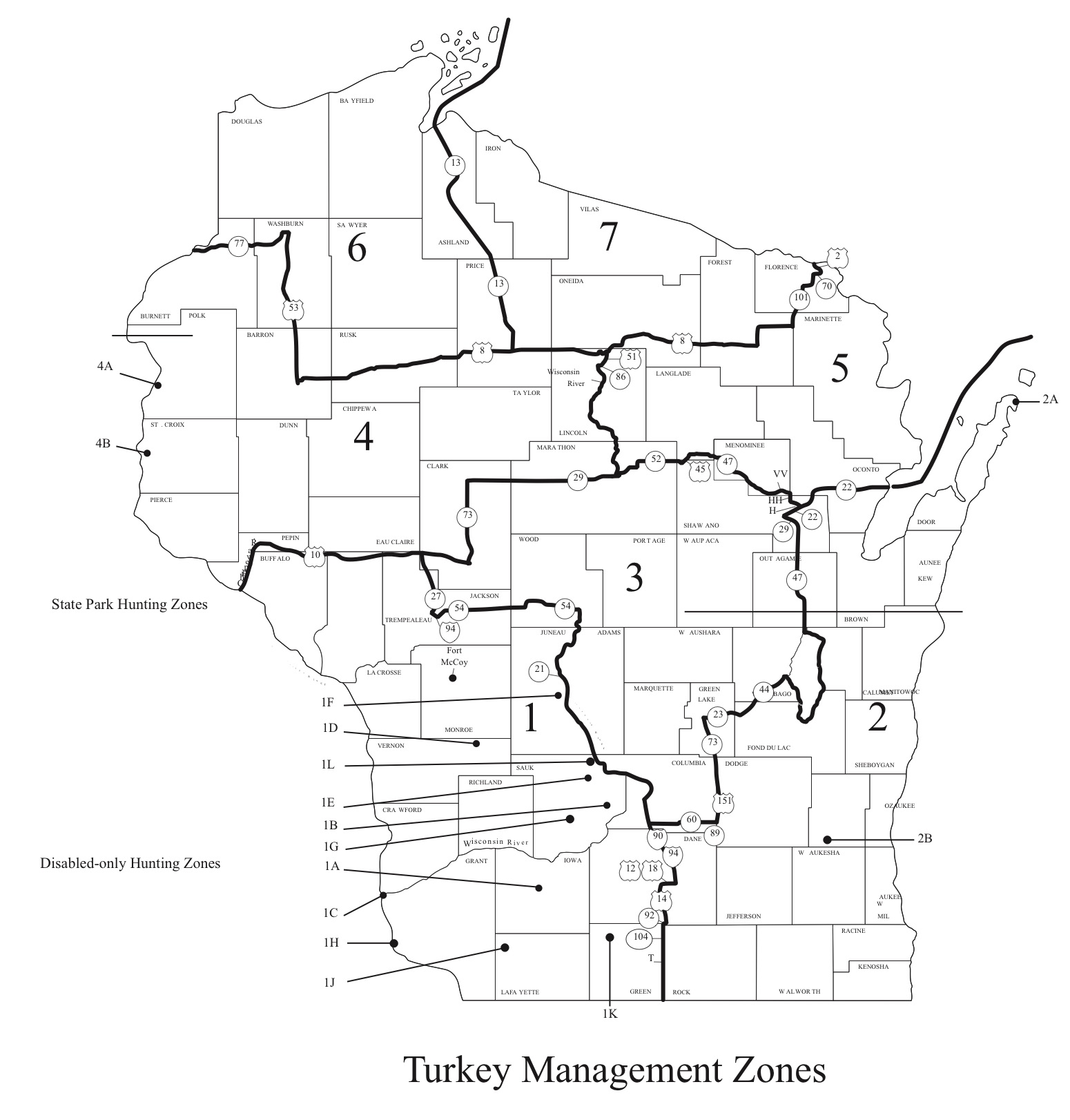 Wisconsin Turkey Season Dates
The Wisconsin Spring Turkey hunting season is divided into six individual periods, each one week in length. Turkey tags are valid only for a specific period within the season. The first period typically opens in mid-April, and the final period usually ends in late-May. Each period is one week in length, beginning on a Wednesday and ending the following Tuesday. Below is a table of the 2024 Wisconsin Spring Turkey Seasons.
Wisconsin 2024 Spring Turkey Seasons
| Period | Dates |
| --- | --- |
| Youth Hunt | April 13-14 |
| Period A | April 17–23 |
| Period B | April 24–30 |
| Period C | May 1–7 |
| Period D | May 8–14 |
| Period E | May 15–21 |
| Period F | May 22–28 |
How the Wisconsin Spring Turkey Application Works
The Spring Turkey Application is managed by the Wisconsin Department of Natural Resources and applicants apply through the Wisconsin GoWild website.
Spring turkey harvest permits are allocated using a preference point based system. Hunters will enter two choices into the draw. Each choice will include one specific hunting zone and hunting period, such as Zone 3, Period B. Permits are granted after assessing the various combinations of zones and time periods that an applicant is willing to accept, prioritized based on the preference level of each applicant for that combination. In addition to the two different time period-zone combinations, applicants can enter one zone where they would be granted a permit if their first two choices are not available.
The drawing process aims to provide as many applicants as possible with one harvest permit, and only a single harvest permit can be acquired through the draw. Any remaining permits will be made available for purchase as Bonus Authorizations after the drawing concludes. Harvest permits cannot be exchanged for a different time period or zone.
Bonus Harvest Authorizations
Once the preference drawing has concluded, any unclaimed turkey harvest authorizations will be made available for purchase without preference-based restrictions and will be referred to as bonus harvest authorizations. These bonus authorizations will be offered on a first-come, first-served basis, with each zone having a specific sales date. Hunters will have the opportunity to acquire these leftover harvest authorizations, with a limit of one authorization per day, until they are fully sold or the hunting season comes to a close. For additional details, please visit the Spring Bonus Harvest Authorizations page or the Fall Bonus Harvest Authorizations page.
The bonus harvest authorization system allows avid turkey hunters to have a very long turkey season with the opportunity to harvest multiple birds.